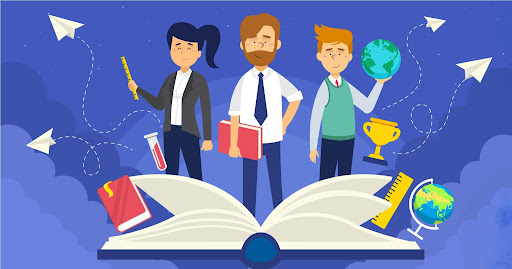 Teachers and parents are the most important contributors to the child's early growth and bring out the best. As most parents and teachers are active smartphone users, parent-school apps have become an important asset in the modern educational system. Parent school apps have many benefits in education. A strong parent-teacher relationship is essential for high productivity in school. Students will also feel more involved in classroom activities if their parents and teachers are friends. Students will also feel more confident and enthusiastic. They will feel more free to share their problems with parents and teachers. School apps are an ideal choice to maintain healthy parent-teacher relationships. The free messaging feature allows teachers and parents to interact comfortably. It makes them an important asset for schools.
What are parent school apps
Parent school apps are educational tools that promote the involvement of parents in a student's education. It helps parents to monitor & track their children's performance & collaborate with teachers at any given point in time. In addition, most of these apps arrive with a free messaging feature. This feature allows parents to communicate with teachers easily. Furthermore, the file-sharing feature enables teachers to exchange images and videos with parents to make the interaction process productive. Some parent-school apps like Schoolvoice offer a variety of valuable features like Actionable Messages, Stories, and Live Broadcasting that raise the standard of modern education.
How parent school apps help in school communication
Being connected to your school via your mobile means you never miss out on any important information. In addition, school communication apps allow parents to communicate and stay attached to the school all time. These apps make communication effective due to the following reasons.
Parent school apps are designed to make the communication process simple and effective. Parents can directly communicate with teachers easily using parent school apps. In addition, most of these apps feature an inbuilt translator that allows parents to interact in any language they prefer.
More secure and private communication
The chats in parent school apps are safe and secure. In addition, school administrators have complete control of the communication for added safety. The chat between teachers and parents stays private. It gives more privacy to parents to discuss any matter with teachers. School administrators also have the right to add, edit or delete the personal details of parents and students.
This feature ensures the messages from schools reach parents without delay in emergency situations. For example, it allows teachers to notify parents about any health issues of students in time. The parents are notified with loud alarms even when their phones are in silent mode. This feature creates trust between teachers and parents. It also makes students feel more comfortable and safe inside classrooms as they know their parents are just a call away.
The instant chat feature is available in almost all school apps. It offers an ideal platform for teachers and parents to interact and discuss educational matters. The messages sent are delivered instantly and notified without fail. Also, most of the school apps do not charge for messaging. Therefore, teachers can exchange as many texts with parents for free. It makes school apps better and more efficient than SMS and emails.
Importance of parent school apps in education
Not only in communication, but parent school apps have many benefits in education also. These apps reduce the workload of teachers and simplify the teaching process. In addition, innovative features like Stories, Actionable Messages, and Rewards and Challenges make the learning process more engaging for students. As these apps are user-friendly, parents can easily use them to track their kid's performance and interact with teachers.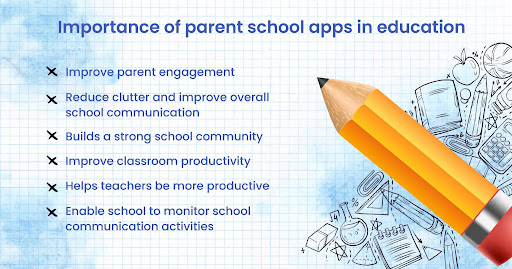 Improve parent engagement
The involvement of parents is a crucial factor in a student's education. Parent school apps promote parent engagement by creating a solid parent-teacher relationship. These apps allow teachers to communicate with parents easily and comfortably. Parents can also interact with teachers in their native language using school apps. Some school apps like Schoolvoice also include features like Stories and Actionable Messages for maintaining a healthy parent-teacher relationship.
Reduce clutter and improve overall school communication
As already mentioned earlier, the parent school app is mainly designed to offer an ideal communication platform. School administrators can control these apps and the communication process. They can also add, edit or delete personal details of parents and students. It reduces the clutter and makes the communication process safe.
Builds a strong school community
The school apps always bring parents, teachers, and students together. A strong school community can be built if you use the perfect parent school app, as these apps can create healthy parent-teacher relationships. In addition, school apps allow teachers to interact with parents and students easily. It builds more trust, and a strong community of parents, teachers, and students is created for effective education.
Improve classroom productivity
Parent school apps have many features that make education engaging. These apps allow teachers to manage classes efficiently and easily. Teachers can also share homework, assignments, question papers, and so on with students more conveniently with school apps. The school apps also improve the morale of students by offering a constructive environment for learning. All these factors improve classroom productivity with less money and effort.
Helps teachers be more productive
School apps help teachers in various ways. For example, teachers can manage multiple classes easily and effectively with school communication apps. School apps allow teachers to share texts, images, and videos with parents and students with ease. Teachers can also make announcements and organize live broadcasts using these apps. Thus, school apps are very helpful to teachers and make them more productive.
Enable school to monitor school communication activities
As already discussed, parent school apps give school administrators the complete authority to manage communication. School administrators can add, edit or delete the personal details of students and parents. It makes the communication process more safe and secure. Also, schools can monitor classroom activities to make sure things are going fine.
Top 5 parent school apps
There are plenty of parent school apps available in the market nowadays. Each of them offers different features and facilities. Given below are the five best parent school apps that make the education process simple, engaging, and efficient.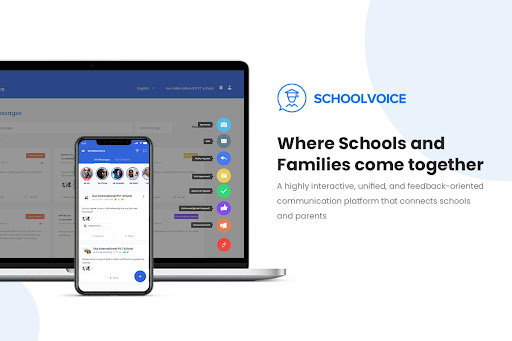 Schoolvoice is one of the best parent school apps that offers an ideal platform for effective communication. This app is easy to use and can be accessed via smartphones and tablets. Teachers can use this app as a perfect tool to interact with parents. Features that make Schoolvoice unique and helpful are
The actionable messages help schools to provide timely updates on important school announcements, request school fee payments, and announce circulars, with predefined reply buttons to improve communication.
The Story is a feature that allows teachers to share class activities as videos and pictures with parents, so they enjoy viewing their kids having fun at school.
Teachers can store academic files and assignments as documents in this cloud storage. In addition, parents and students can access this cloud storage to reach homework, class materials, and other documents.
This feature allows teachers to organize live chat sessions with students and make education accessible from anywhere.
It is a fun gesture that teachers can utilize to improve the behavior and soft skills of the students. Teachers can give digital stickers and trophies to students according to their behavior in the class.
This feature allows parents to provide digital wallets to their children. Students can use this wallet to pay canteen bills and stationery bills without carrying real money to school.
Classdojo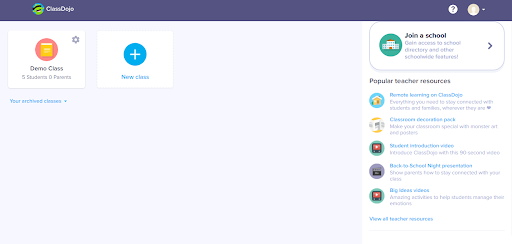 Classdojo is another unique tool that helps teachers to interact with parents easily. Parents and students can easily access the app by logging in using a QR code scanner. In addition, it can be integrated with other applications like DataDog, Google Translate, and Zendesk. Teachers can easily exchange files and create groups with parents using this app. In addition, Classdojo can translate over 30 different languages. Teachers can also assign various activities to students and monitor their progress. Features of Classdojo are
This feature allows teachers to create as many groups or classes as they want. Students can join these groups easily using their smartphones.
Classdojo also allows teachers to exchange images, videos, and documents with parents and students.
This unique feature allows teachers to set time for their rest and break.
Remind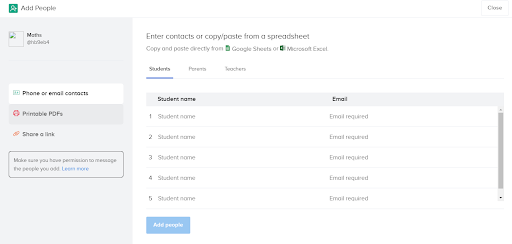 Remind is a secure, helpful school app for teachers to interact with parents. It supports multimedia sharing and features an inbuilt translator which can translate over 100 languages. In addition, Remind allows teachers to manage up to 10 classes with 150 subscribers in each class. Teachers can also set their convenient office hours and schedule classes, activities, and much more. Other features include
Teachers can easily manage and reach their contacts from this feature. It has different categories like students, parents, and teachers for easy access.
Teachers can organize all their classes under this feature. It allows teachers to manage classes easily with a few clicks and swipes.
The most important feature is Stamps, which allow a teacher to send out a question, or image, to which a student has a selection of stamp options to reply with.
Edmodo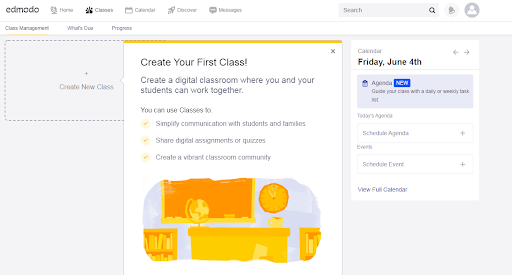 Edmodo allows teachers to interact easily with parents and students and enables them to manage classrooms easily. It is one of the best apps for schools to provide a consistent learning experience.
Using Edmodo, teachers can arrange activities like quizzes and competitions. It has a group feature that enables teachers to create and share information with a particular audience. With the Edmodo app, parents can engage with teachers and know their children's academic performance from anywhere. The features of Edmodo include
This feature allows teachers and parents to discuss educational matters, student's progression, and performance.
Teachers can exchange images, videos, and documents with parents and students easily with this feature.
Teachers can manage and track the progress of students using the Edmodo app.
Polls, Quizzes, and Assignments
Edmodo also allows teachers to create polls, quizzes, assignments, and award badges for students.
Classting
Classting is a free parent school app that offers an innovative approach to modern education. It allows teachers to share messages, videos, and pictures easily with students and parents. The features like Messenger, Notice, and many more make Classting a valuable and one of the best school communication apps. This app can be accessed by teachers and parents from their smartphones easily. The user-friendly interface allows teachers to communicate with parents without any difficulty. The main highlights of Classting are
This feature allows teachers to post announcements, pictures, and videos on their walls so that parents and students can see them.
This feature allows teachers to send messages directly to parents. The messages are delivered instantly, and parents can reply quickly.
Ting is the most important and valuable feature for teachers. This feature allows teachers to combine two classes.
Conclusion
With technology clearly having such a positive impact, parents can now easily track their kid's educational progress using school apps. In addition, parents can support their kid's learning from home and interact with teachers with these educational tools. The parent school app gets the parents involved in building a solid relationship with teachers and encourages involvement in the child's learning and progress. Thus, parent school apps are very important in the modern education system as they offer innovative solutions at a very less cost.