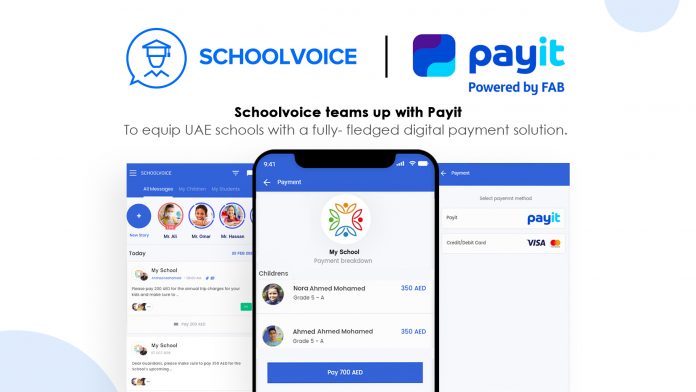 Digital platform redefines ed-tech resilience through its new payment module, powered by FAB
Schoolvoice, an ed-tech digital platform designed for schools to optimise communication and engagement within their community, has signed a Memorandum of Understanding (MoU) with First Abu Dhabi Bank (FAB), the UAE's largest bank and one of the world's largest and safest financial institutions. The objective of this strategic partnership is to promote a culture of cashless transactions within the school ecosystem in the UAE and centralise all financial activities in one digital payment module through FAB's digital wallet payit.
The signed MoU aims to equip schools across the UAE with overarching technology to empower them in running the business facet of their organisation. The two parties will cooperate through this partnership by procuring a smart solution geared towards facilitating any form of payment requests sent from the school to parents or guardians – ranging from school curricular to extracurricular activities.
Under the agreement, payit, the UAE's first fully featured digital wallet from FAB, will fully integrate with Schoolvoice's comprehensive education technology. This will bolster the platform's digital payment module, through which schools can send and collect their payment requests in real-time. Schools will also benefit from an extensive reporting system enabling them to oversee the status of payment requests, and make sure that all recipients have settled their dues. This includes the opportunity to send a reminder to those who are yet to pay a fee.
Schoolvoice's new module, powered by FAB's payit wallet, also gives parents or guardians the choice of payment option they are more comfortable with – be that via credit card, debit card, or through their payit wallet. payit will also provide the education facility's lowest transaction acquiring costs, next day settlement of collections, refunds for access on the merchant portal, and other special offers and discounts that both schools and users can avail.
Ramana Kumar, EVP and Head of Payments and Digital Banking, PBG, FAB, said: "We are delighted to have partnered with Schoolvoice to provide schools with a fully-fledged digital payment solution. FAB is a leading force for expanding the payments sector and we continuously explore opportunities to build on that success and drive further innovation. This MoU reflects our commitment to continue to support critical sectors in the UAE, and education is definitely one of those areas."
Ali bin Yahya, Founder and CEO of Schoolvoice, said of the strategic partnership: "Throughout the year 2020, and especially in light of the pandemic, we have been making every effort to advance our technology in response to the uncertainty that has dominated many educational organisations. This partnership comes to further solidify and prove our commitment to developing a lean as well as sustainable solution – that not only mitigates, but also nips any form of disruption in the bud. The education sector in the UAE, and worldwide, deserves the best, and we are devoted to deliver that."
The partnership aligns with the UAE's directives to ensure the safety of the educational ecosystem in the country, while preserving the quality of academic establishments.
The bank's recently announced plans to expand its payments business through a fully-owned subsidiary represents a significant long-term growth opportunity and forms a key part of FAB's strategic transformation agenda. The subsidiary will help government, merchant and institutional clients grow their core businesses by providing customised payment solutions and value-added services to seamlessly integrate and optimise technology investments, driving a superior customer experience and operational cost efficiencies.