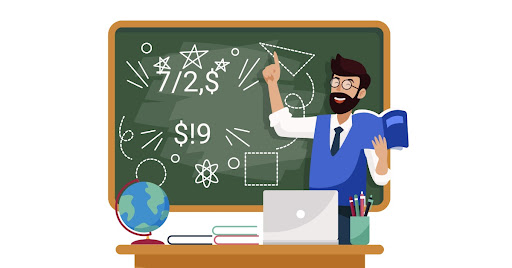 'To Teach' is one of the most honourable professions in the world. Teachers are the building blocks of society as they are responsible for moulding the generation of tomorrow. Therefore, this responsibility is not to be taken lightly. Educators undergo extensive training to ensure that the students assimilate the lessons they teach. However, each student is unique and has their own pace of learning and development. This can be quite challenging for teachers as they have multiple students under their wing.
But as education moved from in-person to online and mixed-mode of learning, and with the pandemic forcing everyone to resort to virtual classes, teachers must be equipped with the right tools to meet the expectations of the parents and students. To enable teachers to dissect these challenges, numerous teacher tools have come into existence. Here's a closer look at the various aspects of teacher tools, the essential things to consider before introducing one into your school and how it helps teachers be more productive at teaching.
What are teacher tools?
A teacher tool is any tool that enhances or expedites the teaching process and helps teachers to teach better. For instance, it can be a tool that allows the teachers to conduct classes in a more organized and efficient way and communicate with parents quickly and efficiently to improve classroom productivity. Teacher tools have been gaining in popularity of late due to the digital revolution. As more schools begin to embrace the latest digital infrastructure, teacher tools rose to popularity. Interactive classroom technology tools such as smart boards were one of the first teacher tools. They have evolved over time to include the various functionalities that help the teachers and parents interact with each other from anywhere today.
These tools ensure that the needs of every student are met without overwhelming teachers. It paves the way for an ecosystem that is conducive to learning and growth. For instance, take the example of an exchange student. A teacher will naturally have difficulties communicating with the parents of those students as both speak a different language. Inherently, this could reflect on the children's academics. But if a teacher tool can seamlessly translate the exchanges between parents and teachers, these challenges can be easily overcome.
How do teacher tools help create a more engaging classroom experience?
Children are usually brimming with energy and enjoy dashing about. It is natural for their age. Thus, capturing their attention during the entirety of a lesson is quite an arduous task. Studies have shown that the attention span of students is minimal and fluctuates with age.
So it is apparent that teachers might not be able to hold the attention span through its course. A student's mind will start wandering off a few minutes into the lesson, reducing the quality of the content they intake. This negatively reflects on their academics. Therefore, it is essential to keep them involved for the entirety of the lesson. As online classes can have it's own limitations, with modern tools, teachers can draw students' attention by engaging them in challenges, competitions and quizzes.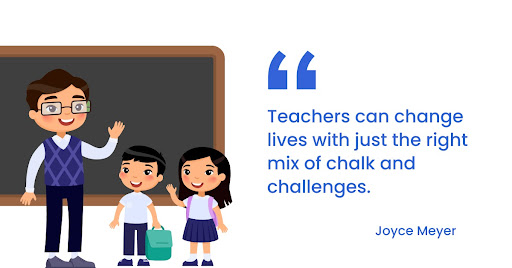 With a teacher tool, a teacher can invoke numerous innovative methods to keep their students interested. That's why teaching tools and techniques are crucial to the success of a lesson. These teacher tools function by streamlining the lesson delivery process and everything associated with it. This will ensure that the classes are fine-tuned for maximum efficiency. The end result is that the teacher tools facilitate student engagement by optimizing the class experience. This allows students to get the most out of their lessons.
How to be more productive at teaching with teacher tools
Teacher tools are often very intuitive and require little to no training to use. However, there is an art to achieving max productivity with teacher tools. These tech tools for teachers have certain specialized features to aid in a particular area of education delivery. The tools must only be used for the situation they are designed to tackle to guarantee peak productivity. For instance, the best tool for online teaching may not always be the ideal tool for in-person classes. Therefore, it is vital to read the situation before settling on a tool. The right tool can do wonders, while an inappropriate tool will make the process more tedious.
Another thing to note for ensuring productivity is that specific tools hold the upper hand over more traditional ones. Email communication, for example, can be an easy to use tool for parent teacher interaction. However, the newest teacher-parent communication apps often have more updated features that enable smoother and interactive conversations than emails. This is because emails are made for general communication, while teacher parent communication apps are designed solely for the purpose of interactions in a school environment. The same applies to almost all teacher tools.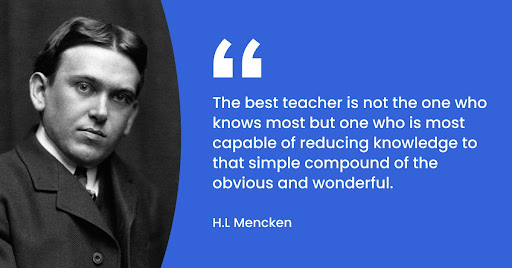 When it comes to teacher tools, managing and engaging with multiple software can be challenging. So it's always best to find a teacher tool that unifies all the requirements of your school communication and classroom management.
Apart from that, planning out how you use the app will significantly improve productivity while using these apps. Additionally, teachers can use the following tips in tandem with teacher tools to ensure the highest levels of productivity and engagement:
Teachers should be willing to explore the options available online and aid the school management in getting the best software that will help them move past the challenges and improve their productivity.
Educators must create an outline of their goals. They should chart out what they seek to achieve with the tool. This will help them optimize the usage of teacher tools to ensure productivity is maintained throughout the school year.
Teachers should promote collaboration tools. In times like these, where most classes happen online, parents and teachers need to work in unison to ensure uninterrupted education.
Instructors must set time limits. This can sound counterintuitive, but it is an effective strategy in the long run. Creating a time frame for educational activities will promote a sense of positive urgency, promoting a sense of responsibility amongst pupils, which will pave the way for higher productivity.
Importance points to consider when choosing a teacher tools for school communication
The amount of teacher tools available in the market is simply vast. However, choosing the right tool can become quite the task as it is easy to get lost in the sea of choices. This is particularly relevant when it comes to school communication apps. Effective communication channels between teachers and parents are the pillars on which the foundation of modern education is built. Therefore, investing in the right communication tools is essential for the development of the school. Here are a few points teachers should keep in mind when choosing school communication tool: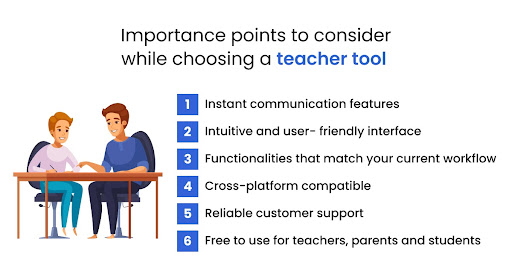 Instant communication features: always check for the likelihood of fostering interaction.The whole purpose of a parent teacher communication app is to facilitate continuous engagement between parents and teachers. If the features of the app are not conducive to this end, then it may not be the right choice.
Intuitive and user- friendly interface:Go for a user-friendly interface. An intuitive design is a big plus when using a software for the first time. In addition to eliminating the need for training, it helps to shorten the onboarding process. This ensures that no disruptions are caused during the transition.
Functionalities that match your current workflow: See if the teacher tool you want to adopt into your school comply with the existing infrastructure you've built. So it will be easy to upgrade your communication and make your workflow more efficient.
Reliable customer support: Pick teacher tools with a reliable support desk. Having a robust customer support team will ensure that the user experience is always great. This is vital as immediate ticket resolution will prevent any delays from occurring. Most people overlook this point when choosing apps and the oversight could prove costly in the long run.
Cross-platform compatible: Confirm the teacher tools you choose support popular platforms, so it is accessible in any smart drive or computers. There are a wide variety of devices available in the market, right from traditional PCs and laptops to smartphones and tablets. The school communication tool must be compatible with all these devices for optimum efficiency.
Free to use for teachers, parents, and students: In school communication apps, one most crucial factor is that it keeps the school at the centre of the school ecosystem and ensures total control over the ecosystem. So as the app is oriented toward providing a safe ecosystem for the management to conduct communication, the school management must bear the cost of managing the app's funding. So the school app should be free of charge to use for teachers, parents and students.
Top 5 teacher tools
There is an endless variety of teacher tools available online. However, not all of them are suited for the needs of your school. The school's needs should be ascertained prior to making the decision to purchase the app.
Here are five teacher tools to incorporate into school infrastructure to improve productivity levels.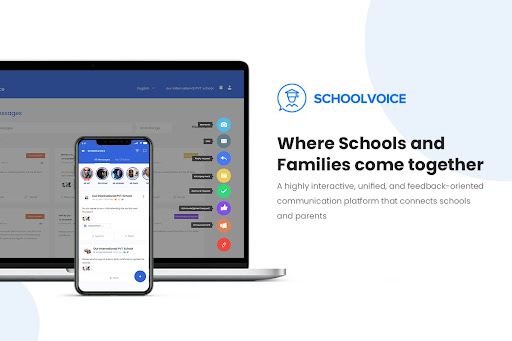 Loaded with features, Schoolvoice is the ultimate school communication app. It enables communication to be handled from a single dashboard. Moreover, the school administration can oversee all communication and regulate the process if the need arises. The unique aspect of the tool is that it has a feature called Actionable Messages, which are messages with predefined actions allowing parents to respond almost instantly. It also comes with cloud storage where study materials and other files are stored, which can be accessed by the parents anytime from anywhere. One of the most engaging features of Schoolvoice is the private one-on-one chat functionality that enables the parents to initiate conversations with any teacher right from their smartphone or computer. The app also supports interactive sessions and live broadcasts to keep parents updated on the progress of their wards. The app is incredibly user friendly and free to use for parents, teachers and students
Remind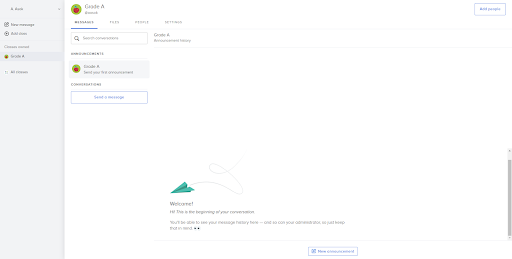 Remind is a teacher tool that focuses on parent teacher communication. It supports 100 different languages and incorporates power features such as language translation and video conference. Remind is focused on making education enjoyable and fun with its specifications reflecting this goal. The standout feature of Remind is the Stamp option. This allows teachers to send out questions to which a student can respond with a selection of stamps.
Classting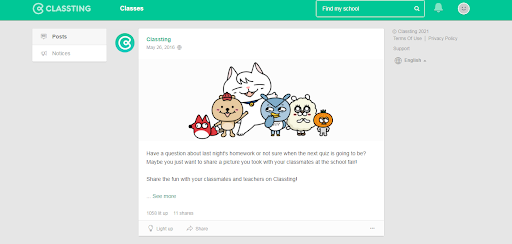 Classting is an educational app that can be accessed free of charge. It is particularly helpful for sharing files between teachers, parents and students easily and quickly. Classting also comes with a messenger option that facilitates direct communication between teachers and parents. Furthermore, Classting possesses a notice option for priority messages.
ClassDojo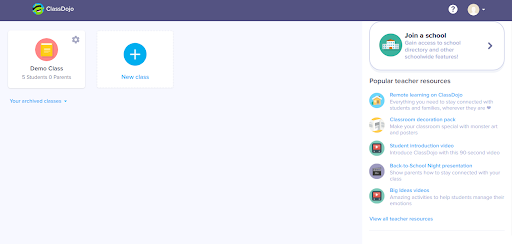 An educational app tailored for student teacher communication, ClassDojo features a diverse array of options to promote greater involvement from the parent's side. Teachers are able to share informative portfolios with parents that feature comprehensive information about the student's progress using the app. The app also features a Story Mode where announcements can be sent to a small group of people as well as a mass messaging option to reach a wider group in seconds.
Edmodo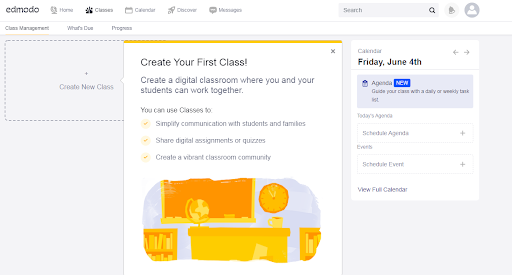 Edmodo is a communication app for schools that possesses features to aid in efficient classroom management. Polls, competitions, quizzes and other activities can be conducted via the app to encourage better education and engagement. Also, all interactions can be monitored in real time with the help of Edmondo's user-friendly interface. The app can be integrated with other tools to nourish a productive learning environment.
Teacher tools are powerful additions to an educator's arsenal to ensure the uninterrupted and holistic development of their pupils. In addition to boosting productivity, these tools can significantly increase parent involvement in the student's school life making it a must have for all educational institutions.