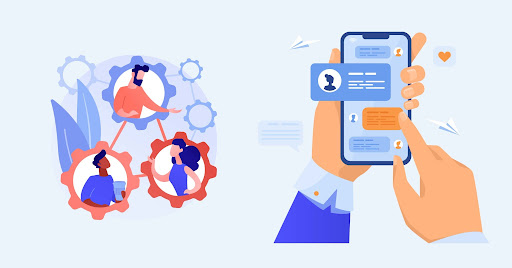 A child's journey as a student is shaped by the experiences they get from school and home. So these two places play a crucial role in their academic and personal development. But ever since the pandemic, there has always been a communication gap between parents, teachers, and students. So achieving such an environment is challenging with a typical educational strategy and learning atmosphere.
However, the advent of technology brings new advancements in communication and remote learning, which paves the way for a dedicated app for parent-teacher communication that can connect everyone in the school and home to create a better learning environment. So here, we explore in-depth the importance of school communication, how the relationship between parents and school plays a vital role in a child's learning process, and finally, how dedicated apps can play a significant role in creating an encouraging learning atmosphere at school and home.
What is parent teacher communication?
Before we delve deeper into the world of school parent communication apps, let's take a look at what really constitutes proper communication. Is it just passing on academic performance reports, regular parent teacher meetings, or one-to-one interaction between parents and teachers? While all of these come under parent teacher communication. However, it does not stop there. Parent teacher communication is a multi-faceted process that ensures that the parents are updated about the child's performance at school while the teachers are informed about the student's progress at home. The whole process works similarly to a feedback loop. Information at each stage is used to improve education delivery and enhance the student's experience. The entire idea behind parent teacher communication is for both parties to form a relationship based on the factor they have in common – the student.
Traditional forms of parent teacher communication have proved to be redundant in the modern era and need an update. That's where the modern parent-teacher communication tools come into effect.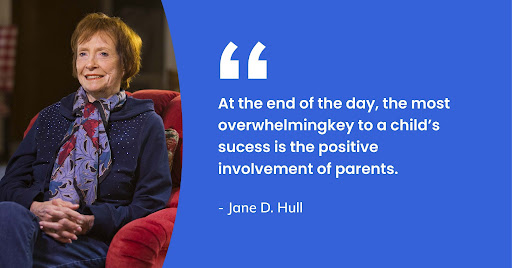 Why parent teacher communication is important
A myriad of factors influences the learning environment of a student. Primary among them is the interactions between parents and teachers. Learning is not restricted to the classroom and extends beyond those four walls. It is an ongoing process where the academic and extracurricular activities at school complement the learning atmosphere and life skills they receive at their home. The reason why parent teacher communication is crucial for the development of students is as follows:
Higher Engagement by Students
For pupils to effectively assimilate the content of their lessons, they need to form a bond with the educators who deliver them. When parents and teachers create a connection and establish trust, the students naturally mirror it and trust their teachers. This leads to a productive learning experience where students are more involved in their education.
Faster Resolution of Issues
An established relationship between parents and teachers allows for more open conversations concerning the child's development. Teachers and parents do not have to be afraid of facing any repercussions and can present the child's challenges without reservation. This paves the way for faster tackling of the issue, thereby empowering the student to thrive.
Improve Perception of School
Most students feel like school is a chore and do not enjoy the experience. This can lead to severe mental health issues and can lower their drive to excel or better themselves. Such an attitude to education is incredibly detrimental to the child's holistic development. When teachers and parents establish a cordial and engaging relationship, the child is influenced by it and will begin to perceive school in a more positive light.
How to choose the best app for parent teacher communication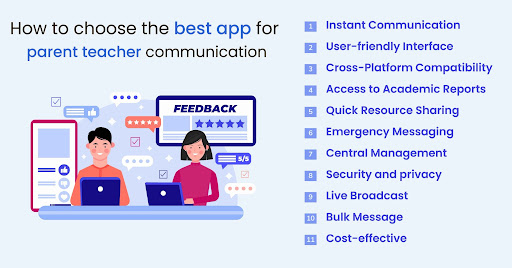 At present, numerous parent-teacher communication tools are available in the market. Therefore, choosing the best apps for teachers and educators can become quite a challenge. There are multiple factors to consider, and what works for one school may not always work for others. So, here's a roadmap on what features to look for when choosing an app for parent teacher communication.
Instant Communication
Traditional forms of communication like calls, SMS, and social media suffer from information overload. This inspires most folk to switch off the notifications from these channels. Such situations make reaching parents through these means all the more difficult. Thus, there is a need for dedicated instant communication software to facilitate engagement. Always choose school parent communication apps that offer instant messaging features that ensure uninterrupted communication.
User-friendly Interface
Even the best of apps become a nightmare to use if they are challenging to navigate. In addition, not everyone is equally tech-savvy. So, it is essential to choose an app that is capable of accommodating users across the spectrum. A user-friendly interface allows schools to make the most out of the app and utilize it to its full potential.
Cross-Platform Compatibility
A plethora of devices and operating systems are used worldwide, with every individual having a personal favorite that they are most comfortable with. From tablets and laptops to android and IOS, there are many platforms from which a person can access the digital world. Therefore, an app for parent teacher communication should be compatible across all these platforms to accommodate people who use smart devices with various operating systems.
Access to Academic Reports
Parents must monitor the academic performance of their wards regularly. This includes homework, assignments, quizzes, and periodic tests in addition to the term-end exams. Parents and teachers need to monitor them daily to take corrective measures before it is too late. The ideal app for parent teacher communication should allow for easy access to the student's academic reports.
Quick Resource Sharing
For education to have maximum impact, study materials and other resources must be accessible to students and parents. School parent communication apps equipped with accessible file sharing features through internet and cloud technologies are the ideal choice to facilitate uninterrupted learning. The availability of software tools with such features also help teachers to be more productive at teaching and be more active in the classroom.
Live Broadcast
Since the pandemic has confined most of us to our homes, it has become increasingly difficult for children to attend school and conduct in-person meetings. As a result, teachers have fewer opportunities to talk face-to-face with students and parents. In addition, even before the pandemic, busy schedules meant that some parents could not meet with teachers during scheduled hours over the working day. Thus, apps with live broadcast features are a big plus as it ensures continuous connectivity and face-to-face conversations.
Bulk Message
Schools need to share a lot of information and updates with parents and students daily. This includes intimating important dates, deadlines, school events, regulation updates, academic reports, etc. So, the school parent communication apps you must try should be capable of supporting bulk or mass messaging.
Emergency Messaging
As school is a community organization, issues associated with the same can occur during its working hours. Therefore, there is a need to reach parents if such a situation were ever to arise. Thus, the school app chosen by the administration must have an emergency messaging feature to contact parents during a crisis.
Central Management
Since multiple individuals such as parents, teachers, and students are using and interacting via school apps, a central authority or admin should moderate what happens in the app to ensure a safe communication space for everyone. Therefore, school apps that enable the institution's administration to oversee the activities and interactions on the platform should be preferred over others.
Security and privacy
In a world where data is more valuable than any commodity, individual privacy is something that everyone looks up to when they use an application. So when you're choosing a school app, it is crucial to select an app that stores sensitive information like the child's details and academic performance and communication with parents with security features like end-to-end encryption.
Cost-effective
Economics and finances are essential aspects of all endeavors. Educational institutions are no different. Therefore, the ideal school app should be cost-effective and capable of accommodating a larger group of people. Moreover, it should not charge parents, teachers, and students for usage.
The best app for parent teacher communication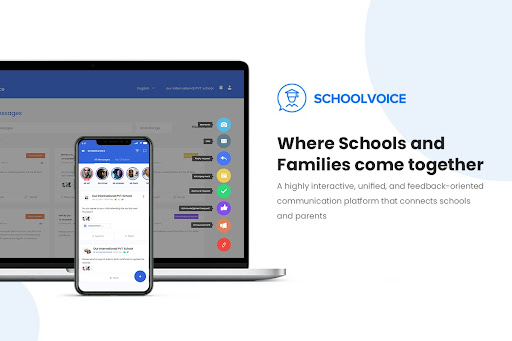 Finding an app that possesses all the features mentioned above can seem challenging. However, it is not an impossible feat. The ideal app for parent teacher communication that has all the features mentioned above is Schoolvoice. It is a school communication app that is easy-to-use and straightforward in its capabilities. School administrations can oversee the proceedings in the app while ensuring seamless communication amongst members of the school community. The features of Schoolvoice are virtually endless. Here is a breakdown of the most exciting and useful features of Schoolvoice:
Schoolvoice allows school personnel to send actionable messages to update parents on circulars or other important notifications. The messages are equipped with predefined responses, thereby making it easier for parents to respond. This encourages engagement in the long term.
The instant messaging feature on Schoolvoice is another valuable feature of the app. The built-in chat feature allows parents to message teachers instantly and resolve any issues that the child is facing. It also facilitates the sharing of feedback.
Schoolvoice comes with a cloud storage facility. This allows teachers to share study resources with students easily. The quick and simple access to learning materials will improve the quality of education as well.
The app is capable of generating detailed reports of all activities that take place in it. From engagement rates to read-to-respond message ratio, monitor all key metrics to gain insights into the communication process.
Schoolvoice supports English as well as Arabic on the platform. It also comes with in-app message translation features to allow for communication in multiple languages.
School apps have received considerable attention of late and are being adopted by educational institutions worldwide. However, each app has its strengths and weaknesses. The best option is to choose an app like Schoolvoice that offers all pertinent features under one roof. School apps enhance the quality of education and connect the student's home and school life, thereby paving the way for children's holistic development and leading to a much better and positive school environment.