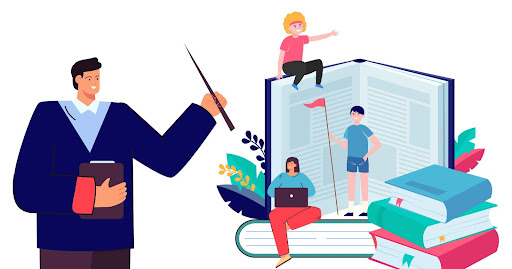 A crucial element that fuels the learning process for students is the interaction between parents and teachers. When parents and teachers stay connected with each other, it will be easy for them to discuss academic matters, behavioral problems, health issues, and more. Parent-teacher communication apps help teachers and parents stay connected by offering an ideal platform for communication. Teachers and parents download the app to their iPhones, iPads, or Android phones and can instantly chat with each other. These free apps allow teachers to interact and cooperate with busy parents who want to know what's happening in the classroom and how their students are performing.
Table of contents
What is a parent teacher communication app
Parent-teacher communication apps are educational tools that offer a perfect platform to communicate. In addition, these apps ensure secure messaging and avoid a lot of miscommunication pitfalls. Users can message a single person privately or announce to a group of people easily using a parent-teacher communication app. These apps also offer plenty of educational features other than messaging like Stories, Cloud Storage, Rewards and Challenges, and so on.
How a parent teacher communication app helps in school communication
These points describe how a parent-teacher communication app helps in school communication in different ways.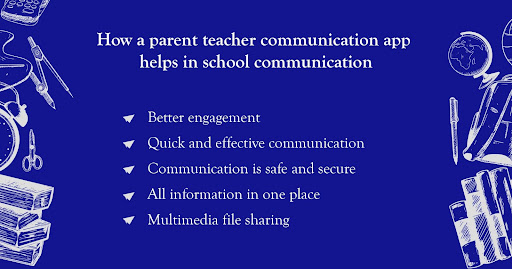 As most of the parents and teachers are smartphone users, it is easy for them to interact using parent-teacher communication apps. These apps ensure better parent-teacher engagement by offering an ideal channel for interaction. As the app can be accessed from anywhere at any time, users can chat at their most convenient time. These apps avoid the communication gap caused by traditional methods like emails and SMS. These apps are designed to ensure the right information is shared with the right audience without fail.
Quick and effective communication
Parent-teacher communication apps have proven to be a quick, practical, and easily flexible communication tool. The messages sent are instantly delivered, and the recipient will get notifications about new messages. The communication is highly effective as there are no chances of messages getting ignored. In addition, it helps parents by promoting real-time communication with teachers through live chat sessions and video calls.
Communication is safe and secure
School administrators have complete control of the communication to ensure safety. All the personal details of parents and students will be safely managed by the respective school administrators. They can add, delete and edit the personal information of students and parents for ensured security. Also, parents can discuss private matters with teachers using the private chat feature. Thus, parent-teacher communication apps offer the safest way of communication compared to traditional methods.
All information in one place
School apps enable schools to keep track of every student's journey accurately and precisely by locating important data such as exam records, scored marks, attendance, etc. Parents can also follow their kid's educational journey by accessing their grades, classroom behavior, interests, and everything using school communication apps. They also get notifications about important school announcements, meetings, events, and other extracurricular activities. Schools can also request fees from parents using parent-teacher communication apps.
School communication apps also allow multimedia file sharing for more efficient communication. For example, teachers can easily share assignments, mark sheets, and other academic files with students and parents. Teachers can also share classroom photos and videos with parents. It allows parents to see what's happening inside classrooms and enjoy their kid's activities.
Best parent teacher communication apps
Here is a list of ten best parent-teacher communication apps in 2022
Schoolvoice
Schoolvoice is a complete educational app that promotes effective parent-teacher communication in schools. The user-friendly interface allows parents to communicate with teachers with ease. In addition, this useful app is compatible with all smart devices. These valuable features make Schoolvoice the most wanted app for parents. It has features like Actionable Messages, Instant Messaging, Stories, Teacher Drive, Live Broadcast, and much more that make the communication more effective.
Features
The actionable messages enable schools to share important announcements, request fee payments and announce circulars with predefined reply buttons to improve parent engagement.
This feature allows parents to initiate a chat with teachers using the app. Instant Messaging is a built-in chat facility that enables you to send and respond to messages immediately.
The Story is a feature that allows authorized staff and teachers to share class activities as videos and pictures with parents, so they enjoy viewing their loved ones having fun at school. It improves parent engagement and the confidence of students.
Teachers can store academic files, mark sheets, and certificates in this cloud storage. Parents and students can access Teacher's Drive to access homework, class materials, and other documents too.
Rewards and Challenges help teachers reward students' soft skills and achievements by giving them digital stickers and trophies as positive encouragement.
This feature allows students to carry a digital wallet to schools. Parents can easily provide money to students via this wallet. Students can use this money to pay canteen bills, stationery bills, etc., at the school.
Remind
Remind is a safe, classroom-friendly parent-teacher communication app that allows sharing of text and files. Teachers can share messages such as daily homework assignments, reminders of upcoming tests, notes, and much more with students. Teachers can also message individual parents or a group of people simultaneously. For students and parents, Remind app will help them stay on top of what is going on at school, from class activities to extracurricular events.
Features
This feature allows teachers and parents to send and receive messages easily. It also allows users to send announcements to a particular group of people.
Teachers can share images, videos, and documents with parents and students using this feature. Users can easily select files from their devices and share them instantly.
Teachers can easily manage and reach their contacts from this feature. It has different categories like students, parents, and teachers for easy access.
Teachers can create and manage all their classes under this feature. Students can easily join these classes without fail.
ClassTag
ClassTag is a free school communication app for teachers and parents. ClassTag has a set of tools that make it simple to organize events and activities that parents show up for. ClassTag is one of the best parent-teacher communication apps because it has unique features and is completely free for everyone. ClassTag not only encourages parent-teacher communication but also makes the classroom interesting for kids.
Features
Teachers can send messages along with images, videos and files to the parents and students easily.
The translator allows parents to receive and respond to teachers' messages in any language they prefer.
This feature allows teachers to send messages to a group of people like parents of a particular class of students.
ClassDojo
ClassDojo is an interesting parent-teacher communication app that enriches the school community. This app allows parents, students, and teachers to interact with each other comfortably. Students can communicate with teachers regarding their educational needs, while parents can stay updated with their children's progress. Students and parents can easily access the app by logging in using a QR code scanner. In addition, it can be integrated with other applications like DataDog, Google Translate, and Zendesk. Classdojo can also translate over 30 different languages.
Features
Parents can easily send a direct message to the teachers using this feature. The read receipt also allows users to find who has read their messages.
Classdojo allows teachers to create as many groups or classes as they want. Students can join these groups from their smartphones easily.
Classdojo also allows teachers to exchange images, videos, and documents with parents and students easily. It improves parent-teacher communication by offering more efficiency.
This feature allows teachers to set time for their rest and break. Students can also use this time as a break.
Seesaw
Seesaw offers the perfect platform for parent engagement along with improving the learning ambiance of students. The communications are managed and shared by the teachers, which makes the process transparent and trouble-free. The seesaw app supports and translates multiple languages. It is one of the best educational apps to share students' academic works, which teachers can access and give feedback. Parents can easily access this school communication app on tablets and smartphones.
Features
Seesaw allows teachers to assign activities to students and monitor their progress. Teachers can easily give various exercises to students using the Activities option. This feature enables students to get more involved inside the classroom.
Teachers can also monitor the progress of the students using the Progress tab. Thus, teachers will know who has completed the assigned tasks. Any classroom can be effectively organized with this application.
The language translator enables teachers and parents to communicate in any language. It makes communication effective as parents can interact with teachers in any language they prefer.
Edmodo
Edmodo enables teachers to communicate easily with parents and students and allows them to manage classrooms effectively. It is one of the best free communication apps for parents and teachers that offers consistent engagement. Using Edmodo, teachers can organize activities like quizzes and competitions. The app enhances the engagement of parents in students' education classroom activities.
Features
This feature allows teachers and parents to discuss educational matters, students' progression, and performance.
Teachers can exchange images, videos, and documents with parents and students easily with this feature.
Teachers can manage and track the progress of students using the Edmodo app.
Polls, Quizzes, and Assignments
Edmodo also allows teachers to create polls, quizzes, assignments, and award badges for students. Thus, it makes the classroom more engaging for students.
Teachers.io
Teachers.io is a helpful app for education that promotes parent-teacher communication. This app is easy to use, and it allows teachers to attach assignments, tests, quizzes, and event details for each of their classes while students can easily access all of these files from anywhere.
Features
This feature allows teachers to manage and conduct classes efficiently. In addition, students can also join these classes from their smartphones with ease.
Teachers.io supports file sharing for improved communication. For example, teachers can exchange images, videos, and documents with parents and students.
Teachers.io provides a public profile that allows sharing stories with other teachers, parents, and students.
D6 Communicator
D6 Communicator is a trending school app that can be used to communicate between parents and teachers. This app ensures that the correct information is shared with the parents and students at the right time. It has many features like a school calendar, photo gallery, and resources that help teachers maintain a strong connection with parents.
Features
The news section displays the latest school updates and announcements. This feature makes it easy for parents and students to find essential schedules and timings.
The Calendar section allows teachers to manage the date and timing of various events. In addition, teachers can create schedules for their classes and other activities.
The Homework section allows teachers to assign homework for students and monitor them. Students can also access this folder and share their responses. It will reduce students' workload and get more time to talk with teachers and friends.
Classting
This valuable educational app offers an ideal platform to share files between teachers, students, and parents. It features a messenger option that allows parents to communicate directly with the teachers. Innovative features like Ting, Posts, and so on make Classting a perfect app for parent-teacher communication.
Features
Teachers can post announcements, pictures, and videos on their walls so that parents and students can see them.
This feature allows teachers to send messages directly to parents and students. The texts are delivered instantly, and parents and students can reply quickly.
Ting is the most important and valuable feature for teachers. This feature allows teachers to combine two classes.
ParentSquare
The ParentSquare app offers a perfect channel for parents and teachers to interact from anywhere. This tool respects users' privacy and has high-level security. Parents can also involve along with their children to monitor their performance. This versatile app can be used on mobiles, iPads, and tablets. ParentSquare app has plenty of cloud storage that helps you to import and export essential files. It also supports multiple languages along with real-time chat, invoice processing, and electronic payments.
Features
Parents can communicate with teachers with ease using the ParentSquare app. The messages are delivered instantly with notifications.
Teachers can create and control classrooms using this feature. Students can also join the classes quickly without fail.
Here teachers can send notifications to a group of people. This feature saves time for sending messages individually.
Conclusion
Parent-teacher communication apps allow parents to interact with their child's teachers conveniently. These apps also help parents to keep in touch with their child's education and school events. Even though the features offered by each educational apps listed are not the same, their purpose is the same. These apps are specially designed to provide a flawless, efficient medium for effective communication. Before choosing the right app, make sure its features intersect your requirements.