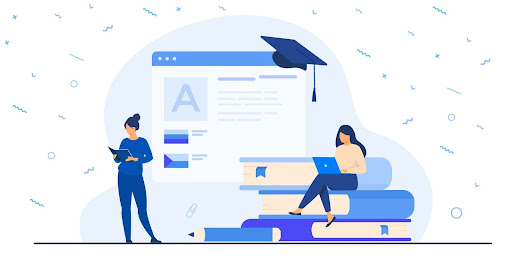 School communication is essential for a school to function efficiently and provide high-quality education. Yet, many schools fail to engage with parents effectively. For example, a recent study by Gallup shows that only one-third (32%) of parents have ever participated in a parent survey conducted by schools. Furthermore, only 46% of parents who have participated in a parent survey have received communication informing them of the results.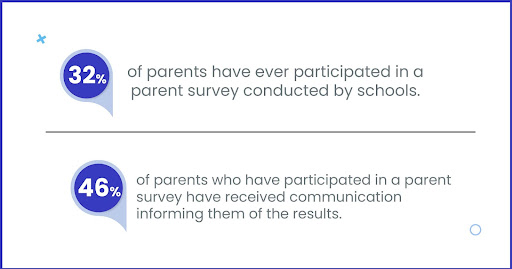 However, 94% of the parents are ready to recommend a school that regularly engages with them to their friends or family members.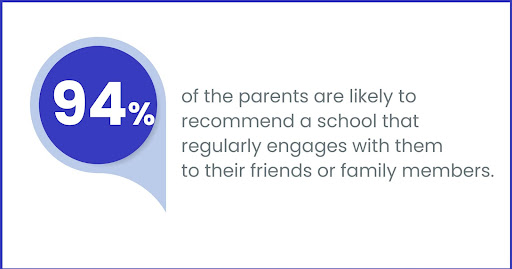 So we can see that there are significant opportunities in pursuing a much improved and engaging school communication system. So in this guide, we talk about effective school communication, how it impacts students' academics, and discuss different ways to improve it.
What does Effective School Communication mean to Parents, Teachers, and Students?
Parents are always the first teachers in a child's life, guiding them through those early developmental milestones. However, putting their children through school puts parents at a disadvantage because they are no longer the primary educator. In this stage, the parent-teacher relationship becomes critical. School communication allows parents to stay involved and support what is going on in the classroom.
But parents who are engaged in their children's education and maintain regular contact with teachers aren't just there to ensure that homework is completed at the end of the day. Instead, they can encourage their child and participate in the academic program with them, demonstrating that they care about their child's education. As a result of this interest, children tend to perform better academically and behaviorally. Teachers can also benefit from interacting with parents because it allows them to try and understand a child's strengths and their unique personality and learning style.
With the pandemic forcing education to be only in online mode and preventing face-to-face class activities and meetings, the gap between teachers and students is widening, resulting in a huge disconnect. In a recent poll on Reddit, a student addressed the communication gaps between students and their professors during the pandemic, shedding light on the issue. So students pursuing education in the online mode would like to be engaged with the teachers in a more meaningful way and prevent burnouts in the process.
So the requirement for a highly engaging and interactive school communication system can be seen in bringing teachers, students, and parents together and building an engaging school community.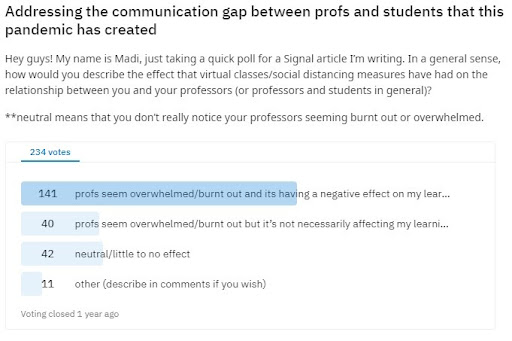 Communication between home and school benefits the student the most, resulting in one of many positive outcomes:
Boost Academic performance.
A more positive outlook on learning.
A sense of empowerment and self-assurance.
Improved Relationships with parents, peers, and teachers.
Regular attendance in class.
How school communication impact the academic performance of students
When school communication improves, the parents and teachers get more opportunities to work together; this can help students. Here are some ways in which positive relationships between parents and teachers affect student performance.
Parents can monitor and control the education of their children
With regular communication with teachers and school staff, the parents can understand their children's travel throughout the year, including what subjects they study, which specific skills they are good at, and what areas they need to improve. In addition, with the constant communication, both the parents and educators get a complete picture of children's educational development, emotional development, and academic needs to provide the proper support and care at the right time.
Parents and teachers can speak and solve any problems in real time
With school communication apps, both parents and teachers can talk virtually from anywhere, creating strong engagement and instant resolutions for problems in real-time. It will, in turn, build parent-teacher relationships. Moreover, as parents get involved in school activities, they feel more open to discussing any issues they may face in their classroom without any worries.
Parents and teachers get to know the children's behaviors and skills by interacting with their parents
Parents understand and love their children. Understanding a child's needs is crucial during their growth. So teachers can use the insights from the surveys and questionnaires to fully understand the needs of the children to provide the right amount of care. It will also help organize and plan activities and include suggestions and ideas to improve the current classroom atmosphere for the following year. The teachers can also have questions in the surveys to explore their children's strengths and weaknesses and expectations from the school. Then, the parents, teachers, and the school can conduct meetings to incorporate the new ideas and create a much better learning experience for children.
10 Strategies to improve school communication
The foundation of a successful educational experience for children is the development of relationships through effective and open school communication. Here are some strategies school administrators, parents, teachers, and students can use to foster relationships that benefit and encourage a learning environment and build a strong school community: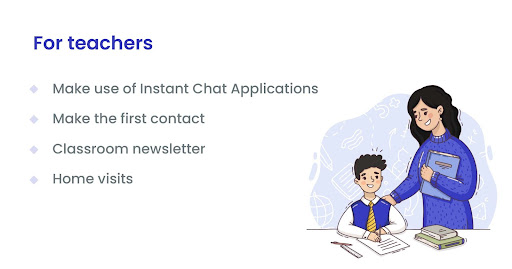 Make the first contact
Teachers can reach out to parents as soon as they know which students will be in their classroom for the school year. Sending an initial email or making a phone call can suffice. In any case, it provides both parents and teachers with an early opportunity to meet and communicate with one another. Knowing they can communicate with their child's teacher from the start gives parents peace of mind that their child will be engaged in the learning process.
Classroom newsletter
The traditional newsletter is still an excellent way to keep students informed about what is going on at school. Newsletters are simple for teachers using a framework that can be emailed or published and sent home with each student. With modern school communication software such as Schoolvoice, a teacher can easily share bulk classroom newsletters effortlessly. The newsletter can involve information about upcoming meetings, school events, and what the class is currently studying. Consider including a "parent" section where parents can discuss their feedback with one another.
Home visits
Home visits are another effective way to establish a relationship and maintain open lines of communication. These informal and relaxed visits, which take place once or twice a year, provide teachers with a unique understanding of a student's home life and atmosphere. Teachers can learn about how a child is embraced at home. They can also learn more about the family's values and goals. This information helps parents, teachers, and students collaborate to ensure education's success.
Make use of Instant Chat Applications
Schools that want to improve and increase parent engagement and revamp their communication opt for dedicated school communication software. Most modern school communication software like Schoolvoice comes with an Instant chat feature that enables both parents and teachers to message directly and discuss school-related issues privately. Teachers can use such features to create instant parent engagement and keep parents in the loop about their children's education. In addition to that, teachers can latest school updates, announcements, and class activities.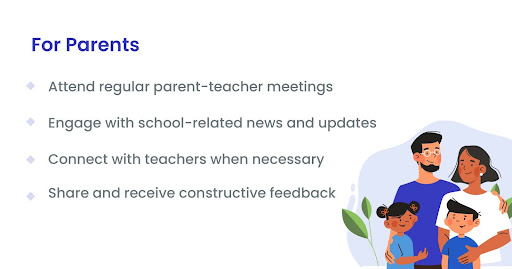 Attend regular parent-teacher meetings
As parents, it's crucial to attend parent-teacher meetings to be in the loop about how your ward is performing a school. A parent-teacher conference is also the perfect time for parents to share and receive open feedback and discuss new ideas that can be implemented in the school. Unfortunately, with the pandemic, face-to-face parent-teacher meetings are not possible. However, modern school communication apps like Schoolvoice can provide such functionalities so that a virtual parent-teacher conference is possible at everyone's convenience.
Engage with school-related news and updates
Most schools rely on communicational channels like emails and SMSs. But keeping updated with emails from school can be challenging as it can either land in the spam folder or get buried in the long list of emails. Messages are also not so secure and could be expensive and limiting. So as these are communication channels that do not ensure instant communication and engagement, parents can get in touch with the management about establishing a safe and secure communication software for everyone in the school to use and conduct their communication activities.
Connect with teachers when necessary
Sometimes children require extra care in a school environment, or they might be facing challenging classroom situations the teachers are unaware of or fail to notice. In such cases, the parents can connect with teachers, share it on time, and find solutions in real-time. But as face-to-face communication can be time-consuming, the parents and teachers can use online chat features or virtual meetings to discuss the issues at hand and find solutions instantly.
Share and receive constructive feedback
Both parents and teachers must share feedback and implement new ideas and teaching techniques in the classroom. The free flow of views, opinions, and constructive feedbacks between parents and teachers go a long way in creating better rapport and building strong parent-teacher solid relationships. All these will benefit the children's overall development and provide better learning opportunities and outcomes.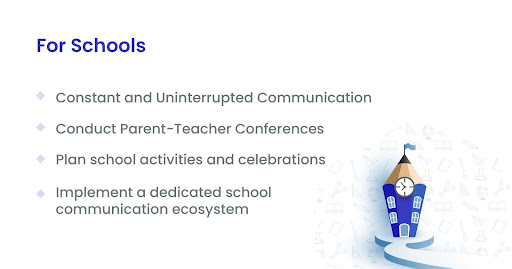 Constant and Uninterrupted Communication
Communication must be constant and frequent to be effective. So, schools administrators and decision-makers must be proactive in providing the right school tools for parents, teachers, and students to keep them connected regularly. Constant communication requires a safe and private school communication ecosystem, and these requirements make it use traditional channels like emails and SMSs effectively. SO this calls for safe and secure dedicated school communication software. With the help of such a school app, a school can easily update parents about their child's academics and well-being and keep them connected with the school updates.
Constant feedback is also helpful for teachers, who can communicate both a student's successes and address any areas of their concern. When implemented effectively, this type of regular school communication will become the cornerstone to a much-improved and engaged school communication ecosystem, contributing to the school's success.
Conduct Parent-Teacher Conferences
The school administrations must be proactive in conducting regular parent-teacher conferences. This serves as an excellent opportunity for the school management to bring parents and teachers to meet face to face and start discussing how and what their children are doing in school. It's also a perfect time for parents to discuss anything going on at home that may impact their child's behavior and learning in the classroom.
Plan school activities and celebrations
School administrations can pan various school activities, programs, and events, so the parents, teachers, and students can build rapport. This kind of event also serves as an excellent opportunity for the school management to create synergy and build a strong school community that works together and makes better relations, which will help the school provide an exciting time for students and parents.
Implement a dedicated school communication ecosystem
Although most schools have a website, a dedicated classroom communication app allows faster communication between teachers and parents. Simple to create and maintain, working parents can visit these pages to stay up to date on what's going on in their child's classroom. Teachers can share personal information about themselves, connecting with parents more personally. Consider including the following details on your class website:
Announcements about events occurring both inside and outside of the classroom.
Students are currently working on assignments.
Parents and students should plan ahead of time for the forthcoming curriculum.
Homework, education, and developing information and tips.
Student of the month and other honors.
Answers to frequently asked questions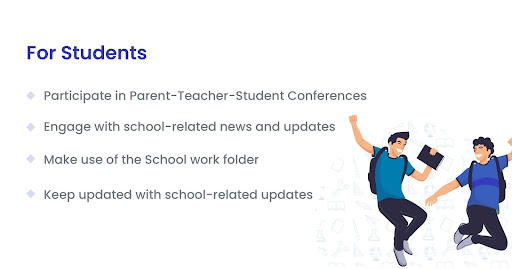 Participate in Parent-Teacher-Student Conferences
Like a parent-teacher conference, this variant includes the students; it's a good idea to give them more accountability for their learning and schooling. Parents and teachers can motivate students to express any issues or queries they may have openly. Many students will respond well during these conferences to any teacher's suggestions or objections about their test scores or behavior. They feel appreciated by both their parent and their teacher, leading to improved academic performance.
Make use of the Schoolwork folder
Teachers and parents can communicate on an ongoing basis using shared online cloud folders where teachers can share homework and documents class materials for parents and students to access. These folders are a valuable resource because they can contain information about test scores and performance and student performance. Teachers can also provide positive feedback to parents, encouraging each student.
Parents can use these work folders to review and stay involved in their child's progress, reinforcing what is going on in the classroom. As an integral part of the organization, collaborations like these clearly outline the expectations for everyone.
Keep updated with school-related updates
As students, it's always crucial to keep updated with school announcements and updates and get in touch with teachers and parents when needed. By regulating getting in touch with teachers, you can create rapport with them and build good relationships with teachers, which will help you excel in your academics.
How a dedicated school communication app improves the school communication
As most of the parents and teachers are smartphone users, it is easy for them to interact using parent-teacher communication apps. These apps ensure better parent-teacher engagement by offering an ideal channel for interaction. As the app can be accessed from anywhere at any time, users can chat at their most convenient time. These apps avoid the communication gap caused by traditional methods like emails and SMS. These apps are designed to ensure the right information is shared with the right audience without fail.
Quick and effective communication
Parent-teacher communication apps have proven to be a quick, practical, and easily flexible communication tool. The messages sent are instantly delivered, and the recipient will get notifications about new messages. The communication is highly effective as there are no chances of messages getting ignored. In addition, it helps parents by promoting real-time communication with teachers through live chat sessions and video calls.
Communication is safe and secure
School administrators have complete control of the communication to ensure safety. All the personal details of parents and students will be safely managed by the respective school administrators. They can add, delete and edit the personal information of students and parents for ensured security. Also, parents can discuss private matters with teachers using the private chat feature. Thus, parent-teacher communication apps offer the safest way of communication compared to traditional methods.
All information in one place
School apps enable schools to keep track of every student's journey accurately and precisely by locating important data such as exam records, scored marks, attendance, etc. Parents can also follow their kid's educational journey by accessing their grades, classroom behavior, interests, and everything using school communication apps. They also get notifications about important school announcements, meetings, events, and other extracurricular activities. Schools can also request fees from parents using parent-teacher communication apps.
School communication apps also allow multimedia file sharing for more efficient communication. For example, teachers can easily share assignments, mark sheets, and other academic files with students and parents. Teachers can also share classroom photos and videos with parents. It allows parents to see what's happening inside classrooms and enjoy their kid's activities.
Which App You Should Consider To Improve School Communication?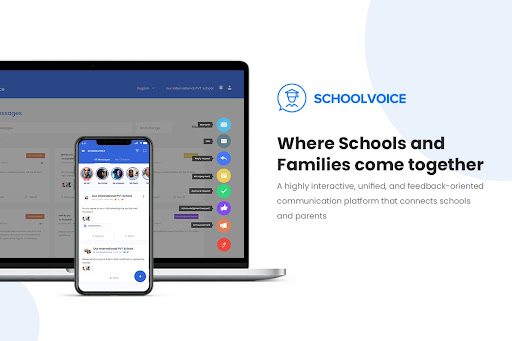 The market offers a wide range of school apps to help schools gauge and improve their communication and increase parent engagement. But it is essential to have an in-depth look at the best school app, as each software is distinct in terms of how its interfaces are structured and the capabilities it provides. However, if you're in the market for an all-in-one dedicated school communication app, then you can try out Schoolvoice.
Schoolvoice is a complete educational app that promotes effective parent-teacher communication in schools. The user-friendly interface allows parents to communicate with teachers with ease. In addition, this useful app is compatible with all smart devices. These valuable features make Schoolvoice the most wanted app for parents. It has features like Actionable Messages, Instant Messaging, Stories, Teacher Drive, Live Broadcast, and much more that make the communication more effective.
Why Schoolvoice is the best School Communication App
Apart from providing exciting and intuitive school communication and engagement features, Schoolvoce stands out with it's varius school-centric features and functionalities.Schoolvoice is more than justa school communication platform,its designed to be a communication platform that can grow as an ecosystem and facilitate the best possible environment to share ideas, exchange feedback, and promote teaching and learning.
With Schoolvoice, your school can grow continuously, measure your communications' outcome, take initiatives and actions to improve parent-teacher relationships and bring a much better and connected school environment for students. Here are some exciting features of Schoolvoice that makes it one of the best school communication app.
Features
Actionable Messages
The actionable messages enable schools to share important announcements, request fee payments and announce circulars with predefined reply buttons to improve parent engagement.
Instant Messaging
This feature allows parents to initiate a chat with teachers using the app. Instant Messaging is a built-in chat facility that enables you to send and respond to messages immediately.
Stories
The Story is a feature that allows authorized staff and teachers to share class activities as videos and pictures with parents, so they enjoy viewing their loved ones having fun at school. It improves parent engagement and the confidence of students.
Teacher's Drive
Teachers can store academic files, mark sheets, and certificates in this cloud storage. Parents and students can access Teacher's Drive to access homework, class materials, and other documents too.
Rewards and Challenges
Rewards and Challenges help teachers reward students' soft skills and achievements by giving them digital stickers and trophies as positive encouragement.
Contactless payment
This feature allows students to carry a digital wallet to schools. Parents can easily provide money to students via this wallet. Students can use this money to pay canteen bills, stationery bills, etc., at the school
Get Started With Schoolvoice – Join Now!
Free signup. No credit card required. 
FAQs on Improving School Communication
Why does school communication matter?
Studies show that school communication is crucial for creating better relationships with parents and improving students' academic performance. So, school communication is essential for the success of a school, attracting and retaining new students, and maintaining a healthy relationship with parents.
What is a school communication plan?
A school communication plan is a road plan for schools to reach out to parents for the year. The communication plan may contain the strategies and guidelines for reaching out to parents to meet the school marketing goals. A school with a dedicated communication channel takes away the hassles of sticking to a communication plan. In addition, it makes it easier for the school administrators to plan, execute the communication plan effectively and measure parent engagement effortlessly.
Where does communication operate in school?
School communication operates as a feedback-oriented loop that flows to and fro between school administrators, teachers, parents, and students. However, to make communication relevant, informative, and up to date, the school administration assumes total control over all the communication activities and operates on behalf of the school.
How does communication apply in school?
A school can apply communication activity across the school community in a combination of online and offline interactions. For example, a school can use face-to-face, annual meetings, and virtual online interactions to keep communication intact throughout the year. With the help of school communication software, the school can extend the communication activities to everyone in the school community and establish a dedicated, secure, and private school communication ecosystem for everyone in the school.
What are the main channels of communication?
A school can make use of email, SMS, and traditional letters to connect with parents. However, all these communications may not be effective and instant to create effective parent engagement. With dedicated school communication software, a school can ensure instant private, safe and secure school communication.