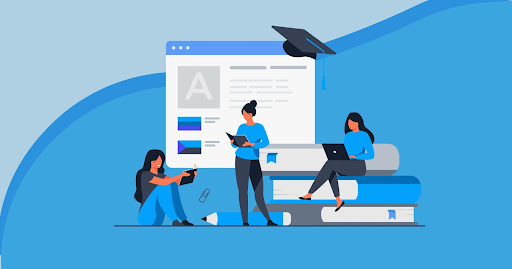 Table of contents
It has been found that the sharing of creative ideas, constant interconnections, and the exchange of ideas and feedback between schools and parents can positively affect the student's academics. But how does one go about creating such an environment? As it turns out, a school communication software intended to improve school-parent communication can provide this environment while also having a significant advantage over traditional methods.
As a result, a teacher-student communication app can significantly improve school-parent interactions and help create a highly effective and friendly learning environment for students.
What is a school communication app?
A school communication app is a software that allows schools and parents to communicate more easily. A school parent app's primary function is to serve as a common platform for all types of school communication methods. A school communication app is typically included as part of a dedicated School app that includes essential features to allow communication between parents and students while also allowing the school to monitor and manage communication activities.
When a school wants to have a more smooth, secure, and instant line of communication that can fix ineffective traditional communication channels like emails and SMSs, a school parent app is usually adopted. As a result, the school will benefit from a secure and reliable communication ecosystem that is beneficial to everyone. What distinguishes a school parent app is that it allows the school administration to control all communication activities within the school. As a result, the school can grant or revoke login privileges to user accounts, add and modify parent and student data as needed, and create a safe area for the entire school community to interact with one another.
Why do schools must use modern school communication apps?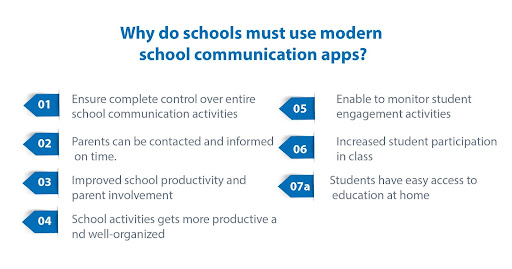 There are numerous school parent apps on the market that can be used to create an engaging and interactive communication experience. However, when selecting a school parent app, it is important to select a platform that meets your current and future needs as well as your school communication goals. If, on the other hand, you're looking for a school parent app that allows you to enjoy all of the above features in a safe and secure environment, why should schools and institutions use a school communication app. Here are some of the benefits of using the best school communication app:
Ensure complete control over entire school communication activities
Because the school parent app is designed to give the school complete control over all communication activities, the school can monitor all engagement activities taking place within the app, resulting in a secure and privacy-oriented communication ecosystem that encourages the sharing of feedback and ideas among school communities.
Parents can be contacted and informed on time
Most enhanced and feature-rich school parent apps on the market include features such as instant messaging. The school can now have instant access to one-on-one private discussions with any parent, no matter where they are, thanks to this feature. This allows the school to send out school announcements, bulletins, and important messages quickly and without delay.
Improved school productivity and parent involvement
Because the school parent app includes features to enhance interactions, parents, and schools communicate more frequently, discuss issues, and devise solutions. Furthermore, when parents believe that the school values their ideas and opinions, they are more motivated to participate in school activities and contribute ideas to improve school activities. All of these activities help to significantly improve parent engagement.
School activities gets more productive and well-organized
As communication between parents and teachers improves, all school activities such as yearly school events, parent-teacher meetings, tournaments, and other activities run smoothly and without delays. Because all of these activities take place on time, the school can run smoothly and plan more productive activities for students.
Students have easy access to education at home
Unlike traditional chat methods, the school parent app includes built-in messaging features that allow the school to reach out to students. Teachers can quickly assist students in their academic matters using this feature, regardless of where they are. Furthermore, schools can request that students share school documents and homework with the teacher effectively through the app.
Enable to monitor student engagement activities
Because the school parent app allows the school administration to monitor all school communication activities, every official school declaration, circular, or news is delivered to parents on time and without errors or delays. This assists the school in ensuring that all forms of communication with parents are up to date and error-free.
Increased student participation in class
Improved parent involvement leads to better classroom interactions. When children believe that their parents are a part of the school, they become more involved in school activities, which leads to improved academics and relationships between teachers, students, and parents.
How to pick the best school communication app?
A wide range of school parent apps is available on the market to improve and enhance communication between schools and parents. Here are a few main features to think about before deciding on a school communication app for your school communication needs.
Provide access to engagement reports
The best school communication app allows the school to collect and access insightful data that aids in understanding parent engagement. Furthermore, valuable engagement reports can assist in gaining a picture of how parents perceive the entire school activities. All of this allows the school to take the necessary steps to enhance areas that need immediate attention. Furthermore, parent engagement assists the school in gathering valuable feedback, which allows it to make better decisions and generate a more welcoming environment for both parents and students.
Create rapport with parents
Parent-school interactions will result in the exchange of feedback, ideas, and recommendations. So that the school can quickly solve problems and incorporate new ideas to provide the best opportunities to learn and student achievement. All of these continuous interactions between parents and school will foster a rapport that will aid in the development of meaningful school-parent relationships.
Security and privacy features
When it comes to interacting, there are times when schools must communicate with parents about their children's well-being. Most modern school communication apps include an emergency messaging feature that allows the school to quickly reach out to parents in the event of an emergency. As a result, make sure the app you choose has an emergency messaging feature built in to send notifications or message parents in times of need.
Instant communication features
A school app for parents should include features that allow the school to send school announcements, bulletins, and other messages to parents' and students' connected devices as in-app messages, either privately or school-wide. As a result, parents have faster access to messages and can react to them all in one place, resulting in significant improvements in engagement rates and ultimate communication between parents and schools.
However, it should be noted that the features and capabilities of school parent apps differ, and each has its own set of features and functionalities. As a result, before making a decision, it's always a good idea to investigate the features of the software you're considering. When looking for features, another thing to look for is the ability to generate overview and engagement reports; this will allow the school to access informative reports and analytics that provide a picture of how interaction and communication are taking place throughout the school.
Comprehensive Communication Dashboard
Because the main role of a school parent app is to provide an insightful space for effective school-parent interaction, the software you should look for must have an intuitive user interface (UI) that allows the school to oversee and manage all communication activities taking place in the school. This way, parents, educators, and students can interact effectively, while the school can easily enable these interactions without impediments. So, when selecting a school parent app, the school must look for software that allows it to conduct all types of school communication activities without limitations.
The school communication app should be simple to use and offer a variety of communication options. It must be possible to communicate with teachers and parents from any location. Furthermore, it must have a user-friendly design that is both engaging and intuitive for users. Also, the parent communication app must have robust features in order to outperform traditional platforms such as emails and SMS. In other words, the school communication app should allow both the school and the parents to freely express themselves.
Pricing
Advanced school communication apps like Schoolvoice are basically free of cost for parents, teachers, and students. Only the school administrations and management have to purchase the plan or package which will then be provided free to parents, teachers, students, and the school staff to communicate freely with each other. 
Safety
The school communication app should also include cloud information access so that teachers can easily store and share school materials, homework, and mark sheets with parents and students. Furthermore, a secure cloud storage facility allows students to remain within the safe space of the school ecosystem while accessing education from the coziness of their homes.
Why Schoolvoice is one of the best school communication app
Schoolvoice is an advanced, powerful, and feature-rich school parent app designed to improve the effectiveness and productivity of school communication. It is an easy-to-use and interacting communication platform that enables schools and parents to communicate in a safe and secure environment. Schoolvoice is one of the best apps for teachers and educators.
A school can use Schoolvoice to streamline and control the entire school communication process, control staff, and teaching activities, monitor the status and reports of messages sent to parents and students, and quickly review the entire communication activities.
Actionable Messages
The Actionable Messages feature is one of the distinguishing characteristics that define Schoolvoice as a comprehensive school communication platform. Actionable Messages are those that have predefined built-in responses. With this feature, the school can immediately send announcements, circulars, request fee payments, documents, and much more while gaining instant parent engagement.
Instant Messaging
A built-in chat feature that allows schools and parents to start conversations directly from the mobile application. The central feature of the instant messaging feature is that parents and teachers can chat without revealing their phone numbers or contact information.
Stories
A safe and comfortable way for teachers to share pictures and videos of children's fun class activities with their respective parents. As a result, parents can enjoy watching their children have fun at school.
Rewards and instant reports
A remarkable Schoolvice feature that allows teachers to reward students for positive behaviors and skills with reward points and trophies. A feature that allows schools to check parent engagement and generate instant reports to see how communication is going in the school.
Teacher's Drive
Teachers can use this free and secure cloud storage to store files, school documents, and personal data. Teachers can use this feature to fastly share homework, class materials, score sheets, and other documents with students and parents so that they can access them from anywhere.
Live Broadcast
A live chat feature that integrates teachers with students and parents, making education more accessible from anywhere.
Conclusion
Schoolvoice's interactive and involvement features enable schools and parents to communicate with one another, resulting in significantly improved learning opportunities and outcomes for children. Furthermore, Schoolvoice distinguishes itself from other school communication apps through features such as Actionable messages, which allow schools to interact quickly and make communication quick and interacting for parents, teachers, and students.
Furthermore, with all of the engagement features, Schoolvoice provides a communication platform that can grow as an ecosystem and facilitate the best environment for sharing ideas, exchanging feedback, and promoting teaching and learning. Aside from that, Schoolvoice is a cross-platform school communication software that is available in many parts of the world, including the United States, the United Arab Emirates, Europe, and other major countries.
With Schoolvoice, your school can take control of all communication and interaction activities, implement more strategies to improve parent-teacher relationships and create a much better learning environment for students.